Why choose to offset your wedding?
Weddings are a special kind of event in one's life, an event where dozens or hundreds of people come together, sometimes across great distances, to celebrate a special moment in a couple's life.
According to recent data, the average wedding produces 63 tons of CO₂. Offsetting this emission has become a viable option in the last few years. ICONIC now provides couples with a convenient option to offset their wedding.
Use the calculator below to quantify your wedding's impact on the environment, and see what offsetting options are available.
Choose a project to support from the packages below by offsetting your wedding.
Not only will you have a greener wedding, you will also become a vital part of a community that fights climate change.
We use Global Warming Potential Values (GWP) provided by the US Environmental Protection Agency to identify the quantity of greenhouse gas emission and to offset it in tonnes of carbon dioxide equivalent (tCO₂e).
Our calculations are based on The Greenhouse Gas Protocol (GHG protocol) methodology as a referring source.
In order to calculate the total of CO₂ emission from cars used in the wedding we estimate the total number of miles driven in the wedding and multiply this number by the average CO₂ emission per 1 mile. The same calculation method is used to determine CO₂ emission from flights in total. The total number of miles from all the flights are multiplied by the average CO₂ emission produced by a plane per 1 mile. Calculation is based on US Environmental Protection Agency's data.
We ask to specify the type of meal served at the wedding in order to determine how much CO₂ emission will be produced by the total amount of food served in your wedding. The type of meal has an impact of the amount of CO₂ produced. Recent studies have shown that vegetarian and vegan meals produce much less CO₂ emission compared to meals that contain meat. According to the Oxford University study figures, an average non-vegetarian meal produces 15.8 pounds of CO₂ when vegetarian and vegan meals produces almost half of that: 8.4 and 6.4 pounds of CO₂ respectively. We base our calculation according to the number of guests that choose non-vegetarian and vegetarian/vegan meal options in your wedding.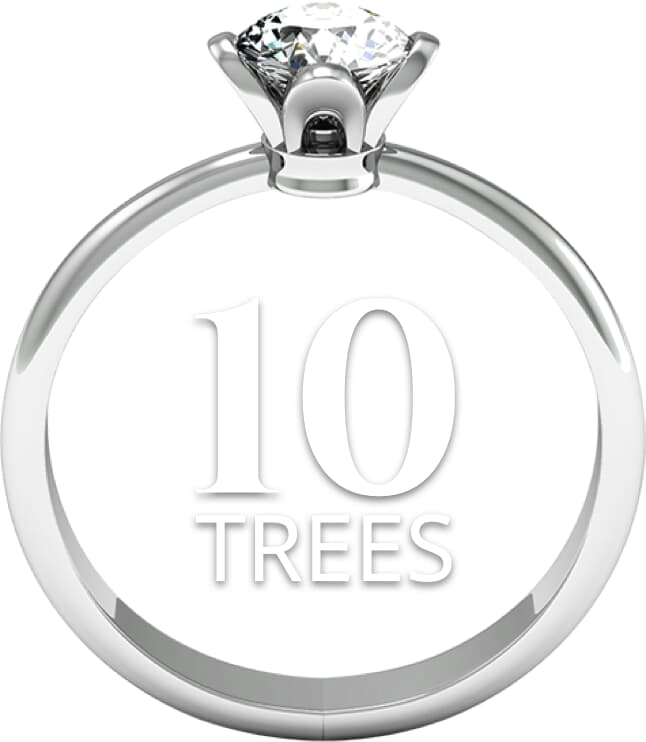 The NFF partners with corporate sponsors and businesses to achieve their reforestation goals. At ICONIC, we are proud to be partnering with such an impactful upstanding organization rebuilding our forests one tree at a time
For every ICONIC product sold, we will plant 10 trees via the NFF and support them in restoring native landscapes and rebuilding healthy forests for the future.
his is part of our wider carbon-offsetting action plan and goal to maintain carbon neutrality
For more information about the National Forest Foundation and its initiatives: www.nationalforests.org