EARRINGS
When it comes to gift-giving, classic earrings are a fantastic choice. There are three key factors to consider when selecting or buying earrings: earring styles, metal, and gemstones.
---
Earring Styles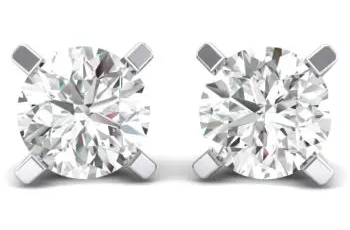 Stud Earrings
Classic studs are the simplest of all earring styles consisting of single precious stones or shapes attached to single wire posts. Metal studs or ball earrings sit snug to the earlobe and are usually secured with a push back. A pair of diamond stud earrings are an absolute jewelry essential.
When you decide to buy diamond stud earrings, you will not regret your choice. Of the different types of earrings, the simple stud is the earring design worn most often. Studs come in different shapes, from round to teardrop earrings, and include pearl earrings.

Drop Earrings
Drop earrings are a feminine style of earrings that hang down from the ear lobe. Gemstone drop earrings are a subtle way to add polish and sparkle to your work, evening, or everyday wear. These earrings do not remain still when moving- a feature similar to jacket earrings. Additionally, drop earrings may have pushbacks or be lever back earrings.
Dangle Earrings
Unlike drop earrings, dangle earrings swing and dangle when moving around. They are usually of a higher volume, and these types of earrings can include tassels or intricate chains. Other types of earrings in this category include chandelier earrings and threaders.

Hoop Earrings
Circular or semi-circular in design, hoop earrings come in various sizes and styles, from very tiny hoops to ball closure rings in a complete circle or huggie earrings and big hoops that make a bold statement. Hoop earrings may have exploded in the '80s, but they have never gone out of style. Like the stud earring, tiny hoops and huggie earrings are some of the earring types that remain a classic. So whether you are aiming for delicate or dramatic, boho or street, hoop earrings are a style for everyone.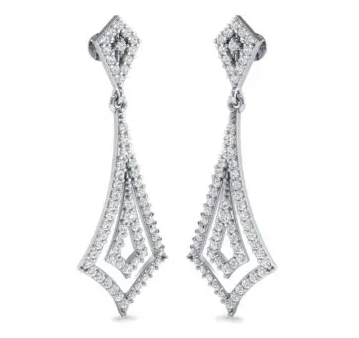 Chandelier Earrings
This bold statement style dangles from the ear lobe and is suspended from a post, making them dangle earrings. Usually embellished with gemstones or other precious gems, they are made from precious metals. Chandelier earrings are fitting for glamorous evening looks.
These earrings come in different shapes and sizes, from diamond shapes that create geometric designs to a more circular shape or even tassel earrings. Teardrop earrings also fall under this category.

Cluster Earrings
With brilliant clusters of diamonds or cubic zirconias to create exciting patterns, cluster earrings are a variation of simple diamond studs. Cluster earrings are a playful statement piece that often features a round center diamond encircled by baguettes for a halo style, marquise cut diamonds in flower arrangements, or other types of artistic arrangements, such as jacket earrings. Less commonly, clusters can also contain a center diamond in a teardrop shape, but they always include intricate designs.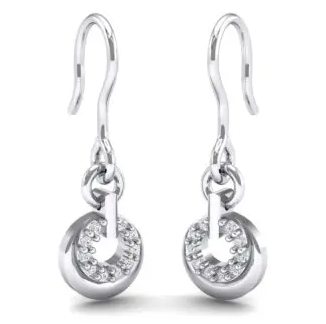 Threader earrings
Following a minimalistic trend, threader earrings are dangle earrings with a modern interpretation of a drop earring, which dangles with a slim chain that enters the earlobe. Choose a streamlined chain with gemstones at either end or a geometric shape to contrast sharply against the fluidity of the chain. They combine well with types of earrings, such as clip-on earrings or climber earrings.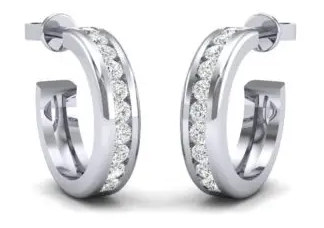 Ear Cuffs
Ear cuff earrings are a type of clip-on earrings that hug the shell of the ear for an ultra-modern ear piercings look, and work well paired with other earrings. Even women with no earlobe piercing can wear a pair of ear cuff earrings. Ear cuffs can be worn as part of an ear stack or on their own for a minimalist look. Bajoran earrings also fall within this category. In addition, cuffs are sometimes used to mimic the style of barbell earrings.
Other earring features that come with purchasing ear cuffs include wearing mismatched earrings while still looking stylish. For example, one could wear studs and crawler earrings in one ear and Bajoran earrings or earspool earrings in the other. Sometimes the wider the variety of the different earrings worn, the more modern it looks.
---
Earrings Back Types
There are many different back types to consider when choosing your earrings, and different types of earrings require different earring backs. Selecting the suitable earring back types for your earlobes is essential in keeping the earring in place and secured.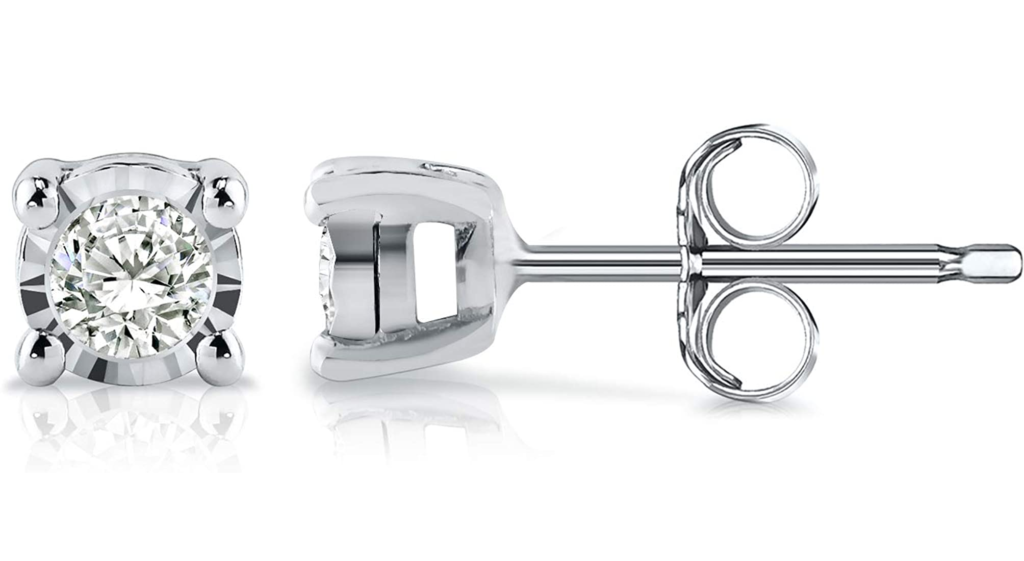 Push Backs
Push backs feature a straight post passed through the piercing and into a small metal piece. Push backs are the most common earring back. A push back is often used for its a type of back that is easily replaceable. A similar but more secure back is the screw back.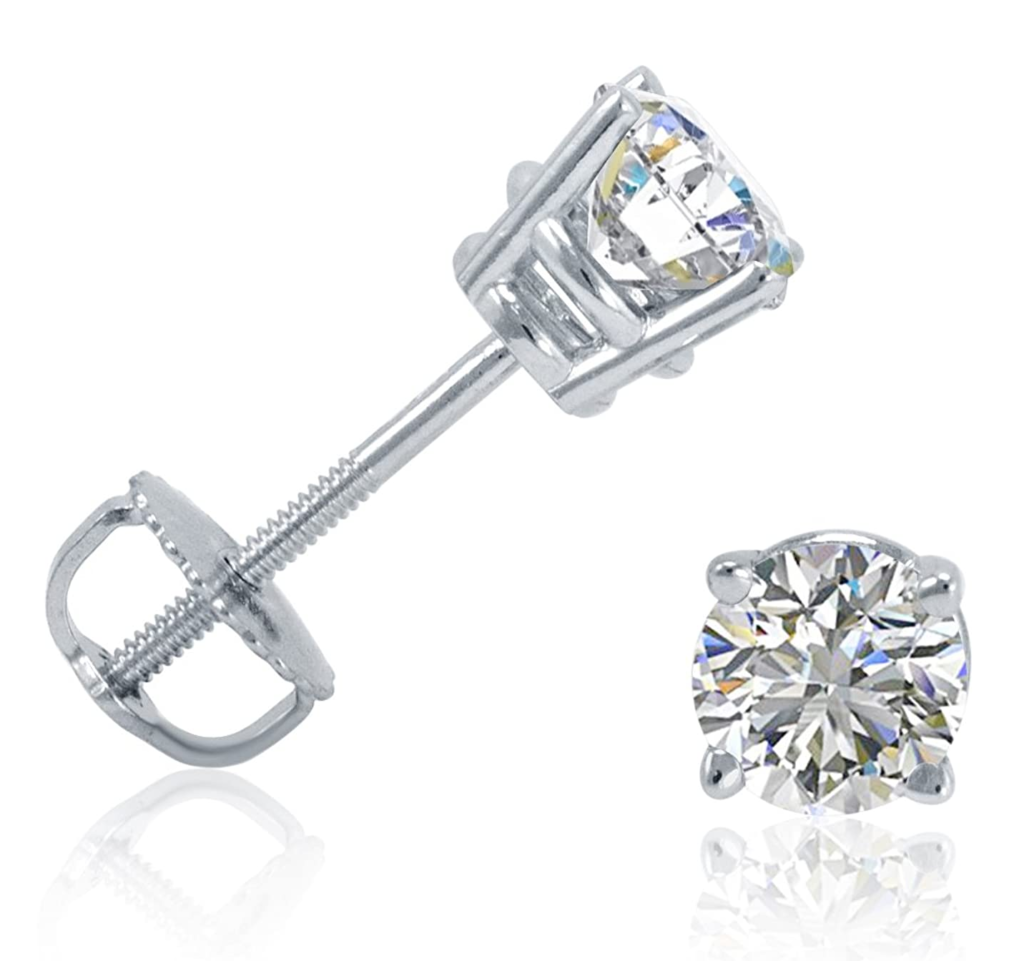 Screw Backs
Screw backs are similar to pushbacks, except for a removable screw called the clutch, which holds the post in place. A screw back keeps the earring in place, giving you extra security than a regular post backing. Screw-backs are also ideal for people living an active lifestyle.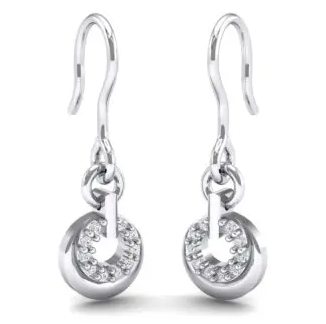 Fishhook
A long curved wire is passed through the ear piercing, holding it in place, also known as a French hook. These earring backs are most often used dangle earrings, but they can also be seen in other types of earrings.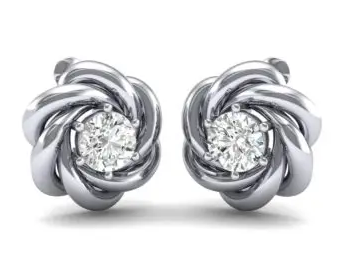 Clip-On
Designed for those who do not have their ears pierced, clip-on earrings are secured by a hinged clip instead of a hook.
---
Frequently Asked Questions
You will obviously want to keep your diamond earrings looking new, so it is vital that you clean them regularly.
To do so:
1. Get a dish of warm, soapy water which contains a MILD detergent.
2. Put the earrings in the bowl and gently wash them with a cloth to remove dirt and grease.
3. If they require something more substantial, use a SOFT toothbrush and gently remove the stubborn dirt.
4. Rinse in clean water and dab them dry using a lint-free cloth.
There are many factors to consider when it comes to the price of diamond earrings. The carat weight, clarity, color, and cut will all play a role. When buying diamond earrings, you can expect to see a range in price from $199 to $35,000.
Of course, when you are talking about whether diamond earrings are genuine, you are talking about the diamonds themselves. The best way to check their authenticity is to clean them with a clean rag, hold them in front of your mouth and breathe on them. Unlike glass, the diamond should not mist up.
Sterling silver earrings can be cleaned by being soaked in a bowl of warm water containing a mild detergent to benefit people with metal allergies. After the earrings have been left to soak for 10-15 minutes, you can gently scrub them with a soft toothbrush, rinse and dry with a micro-fiber cloth or leave to air dry out of direct sunlight.
There are many ways in which you can store earrings. The easiest way is to keep them in the box they came in from the jeweler. Alternatively, you could hang them on a stand, attach them to a piece of string or a chain, create a DIY jewelry box, or store them carefully in a drawer.
There are many earring types. Common styles include dangle earrings, hoop earrings, clip earrings, studs, etc.
The most secure type of earring back is the screw back. It consists of a threaded post and a nut that is spun onto the post up to the back of the ear lobe. A screw back keeps the earring in place, giving you extra security, especially for more valuable pieces. Screw-backs are also ideal for people living an active lifestyle and are the best earrings for reliability compared to other earrings.
Choose types of earrings based on your face shape. For example, chandelier or drop earrings balance out round face shapes. Oval faces can wear most earring types. Square faces do best with drop earrings and rounded earrings, whereas heart-shaped faces suit dangles such as chandelier or teardrop earrings.
Hoops are a classic shape that doesn't go out of style. Small hoops are good for daily wear, whereas larger hoops are statement pieces.
Diamond studs will measure around 6.5 mm, which is the standard size for 1-carat diamonds.
Sleeper earrings are the first pair of earrings most women wear after a new piercing. Small and lightweight, they are designed to give you a comfortable night's sleep while your ears are healing.
Buying diamond studs is a good choice for jewelry, and small snug-fitting hoops can be worn every day and are the perfect gift for a woman if you don't know their personal preference.