LEARNING TO MEASURE YOUR CORRECT RING SIZE
When buying a ring, it's important to select one that fits comfortably. The ideal ring should have enough grip so that it doesn't fall off by itself and still be loose enough to slide off with little to no effort. Before measuring your finger you need to keep in mind that it changes depending on the time of day and the temperature of your surroundings.
The ring size for women ranges from size 3 to 9, with 6 being the global average ring size. The ring size for men ranges from size 8 to 10, with size 10 being the average size in the U.S.
Measuring your size accurately is important and you'll want to be sure you're getting the right size before you order. There are several ways to find your ring size at home. All the best methods are outlined below.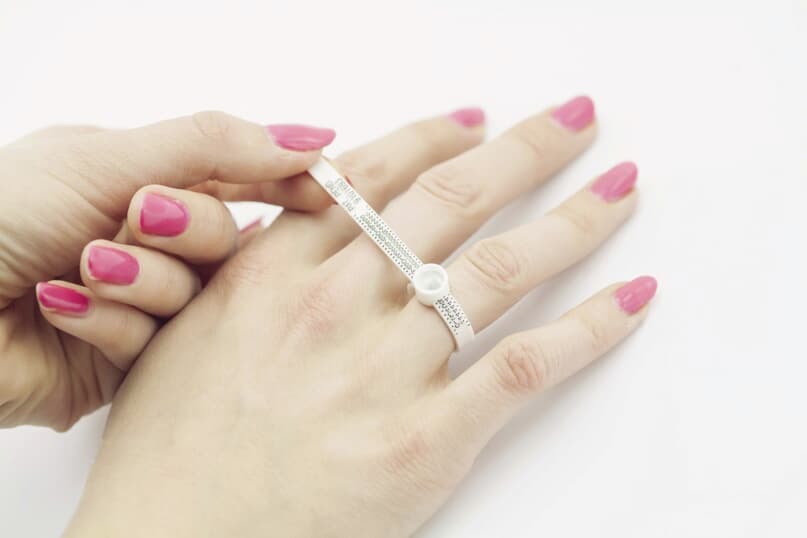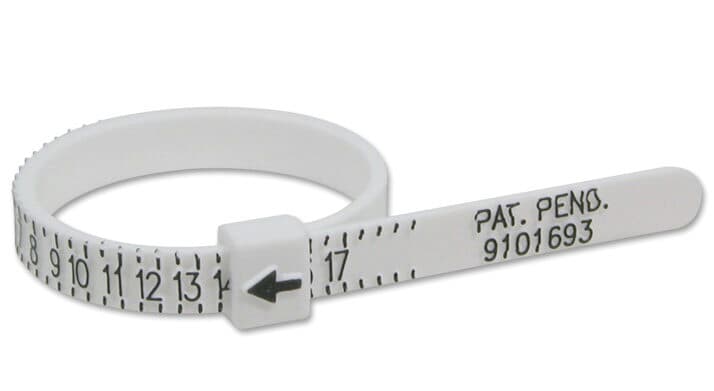 Free Ring Sizer
We are happy to provide you with a free ring sizer to help determine your ring size at home.
Printable Ring Size Chart
Another option is our free printable ring sizer chart to help you easily determine your measurements. Just print out the sizer and follow the instructions. The chart includes a cutout sizer that you can wrap around your finger to determine your size.
---
All ICONIC rings are listed in standard US sizes. If you already know your size in a different country's sizing system, you may use the Ring Size Conversion Chart to find your accurate US ring size.
Note: This guide will not take into account the style of the ring you choose. When selecting a ring with a deep bandwidth, you may need to size up. Feel free to contact us for further information.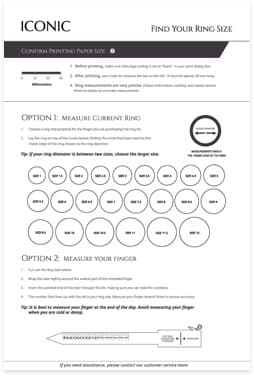 Before Printing Please refer to the instructions within the downloadable PDF.
FOLLOW THIS RING SIZING GUIDE
Ring size may vary with temperature and time of day. It is best to measure your finger at the end of the day when your fingers are warm.
Take measurements several times to ensure accuracy.
While the ring fit can be a matter of personal preference, we recommend selecting a ring with a size that is comfortable but requires slight force to slide over your finger. If a ring slides on and off too easily, it may fall off when your ring finger is at its smallest (when it's cold, etc.).
Ring Size Conversion Chart
All rings on ICONIC are listed in standard US sizes. If you know your size in a different country's sizing system, you may use the Ring Size Conversion chart below or download a printable PDF.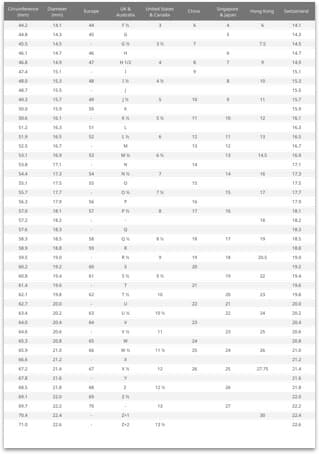 ---
HOW TO SECRETLY GET YOUR GIRLFRIEND'S ENGAGEMENT RING SIZE
Engagement rings are probably the most special jewelry purchases that most men will make. However, picking out an engagement ring can be quite difficult. Especially if you are hoping to make it an unforgettable surprise for your girlfriend. After all, this ring is a symbol of your undying love and commitment. So you want it to be perfect.
If you already have an idea of the design and style of the engagement ring you want, here are some ideas on how to get her finger size without her catching on.
Method 1 : Use a String
Try looping a piece of string around her finger while she's sleeping. Just be sure it's not wound too tightly. Once you've got it on right, make note of the meeting point of the string, then mark it with a pen or cut to the correct length. You may then use the ring sizer from our website to measure the exact size.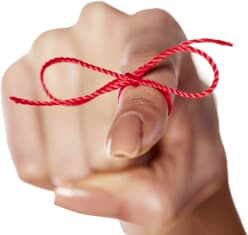 PRECAUTIONARY MEASURES
Remember that her dominant hand will most likely be a little bigger than the other. If she's right-handed, her ring finger on the left hand might be smaller in size.
Also, be sure to not make the knot too tight when using string to measure her finger. If this happens, the measurement you get may end up being smaller than her actual size. The string should be able to move gently over her knuckle. Also, when using a pen or a marker, make sure that the pen you use is finely tipped. If the ink bleeds, the markings will be too wide and you will end up having a highly inaccurate measurement. Even a half size change will make the ring measurement too small or too big.
Also keep in mind that rings are not as flexible as a string so even when this method is executed perfectly, it's still less accurate than simply having her try a ring on.
Method 2 : Trace a Ring She Owns
You can also check her jewelry box when she's not looking. All you have to do is trace out her ring on a piece of paper and bring it to an expert for accurate sizing. But be careful! She might own a ring that is meant to be worn on the thumb or pinky finger. And even a ring for her middle finger will most likely be at least a half size larger. If you happen to measure the wrong kind of ring, you will get a completely different size than the one she wears on her designated ring finger.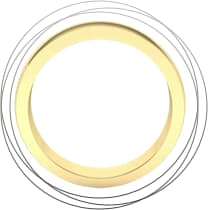 Method 3 : The Direct Approach
Alternatively, there is always the option of simply asking for her ring finger size and gifting her some fashion jewelry from an accessories store – this could make for an even bigger surprise when she receives her actual gift.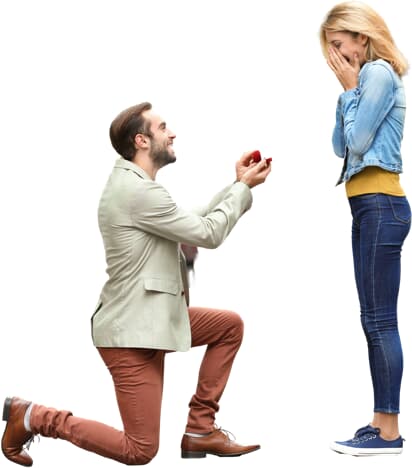 Method 4: The Subtle Approach
You can also ask her if she has a trusted jeweler. Most jewelers keep the sizes of their clients on file. You can tell her you need to buy some jewelry for your mom and would love to try to her trusted providers. If she has jewelers she uses and trusts, not only can you find her ring size but you can also gain insight into her design preferences too.
IS YOUR RING TOO TIGHT?
For most of our customers, a tight-fitting ring is preferred. But how can you tell if a snug ring is in fact "too tight"? It may not seem important, but having an overly narrow ring may cut off circulation and leave your finger feeling numb.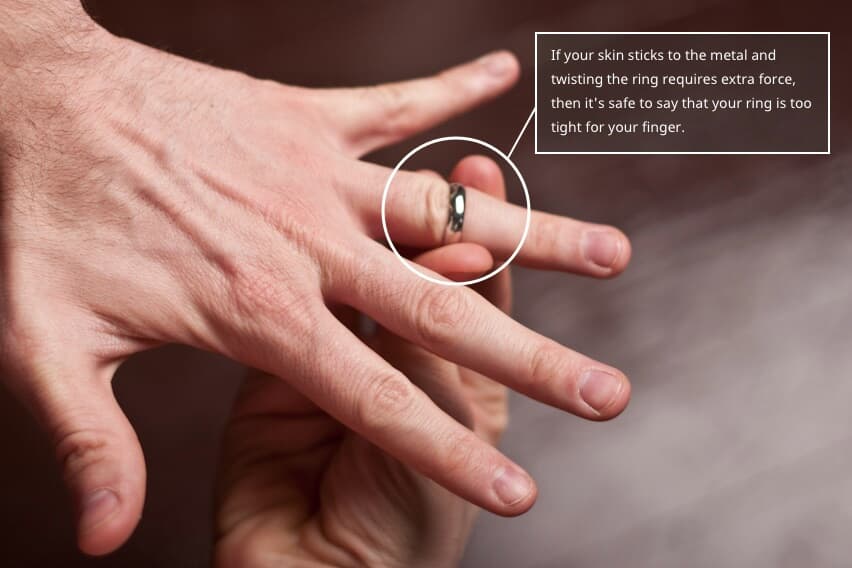 One way to know whether your ring is too tight is by twisting it on your finger. If you can effortlessly turn it from side to side with little resistance, the size is just right. If your skin sticks to the metal and twisting the ring requires extra force, then it's safe to say that your ring is too tight for your finger.
Alternatively, you can simply try taking off your ring. If you can remove it without a hitch, the ring fits you perfectly. If it remains stuck on your finger, it's too tight. If you're in a situation where you can't slide your ring off, you can try icing your finger or dipping it in oil or butter. If it still doesn't come off by itself you should immediately seek medical help.
---
IS YOUR RING TOO LOOSE?
No couple wants their wedding rings to fit too tight, but you also don't want them to be too loose. Rings are often quite costly, and losing one can be a nightmare! It's even more frightening when you don't realize it's gone until hours later. A good ring must slide off your finger easily but not have too much mobility around the base of the finger that it can slide off without you knowing.
If the ring can slide off your finger without having to twist or pull or it's so loose that it spins on your finger, you should have your ring resized immediately.
---
WE OFFER FREE RESIZING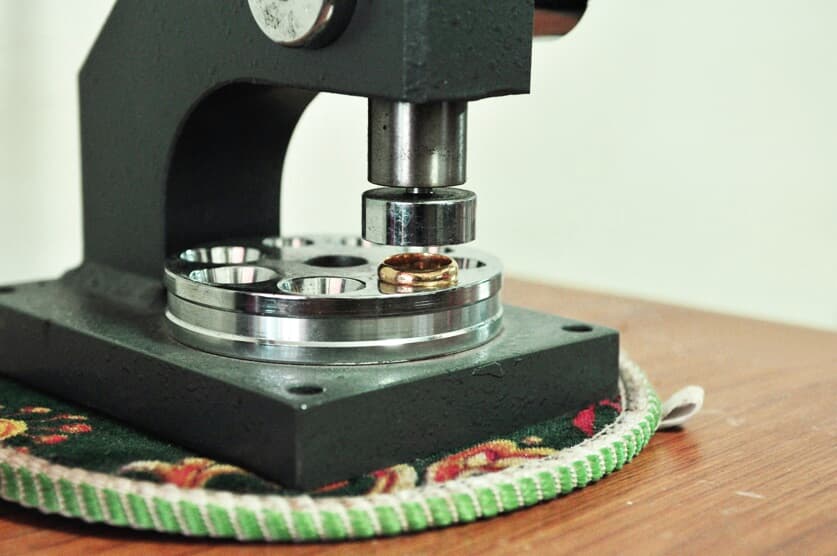 ICONIC provides resizing for most engagement and wedding rings. Certain pieces, such as eternity rings and rings intricately designed by wedding band designers that are very ornate may not be eligible for a resizing. A jeweler will have the right gadgets to get the perfect ring sizes for both men and women.
Resized or altered rings may not be returned. After getting it resized the first time, the ring will get weaker with each following resize from the manipulation. This will only make the ring more susceptible to tearing and damage, so we highly recommend adjusting ring sizes only once.
If you do decide to have your ring resized, make sure that you get an expert's opinion on your size.
We are always happy to help. Our team of jewelry experts will be delighted to assist you in getting the perfect fit for your engagement ring! We're online daily via live chat, or you can simply send our team an email to inquire about ring sizes.
To have a ring resized, please contact us for further information.
---
Frequently Asked Questions
It is very difficult to put a figure on how much an engagement ring should cost, but the modern rule would suggest it should cost approximately two month's salary. However, it will depend very much on how much you earn for whether this is feasible with many people spending a lot more, and others spending far less. Regardless of how much you spend, remember what the engagement ring is a symbol of. This can help guide your purchase. Our product pages feature a wide variety of rings in different sizes, styles, and budgets so you can browse through several design options before deciding.
If we assume that your future fiancée doesn't know that you are going to propose and you don't want to tell her, you will need to get creative. The best option is to find a ring which she wears on her left-hand ring finger (although this is generally unusual) and bring it to a jewelry store. If not, we would suggest wrapping a piece of string around her finger while she is asleep and marking down the size.
In the current climate, a 1-carat diamond will be worth anything from $1,800 to approximately $12,000. Prices vary significantly because other factors are deemed to be more important such as the cut and quality of the diamond, along with its clarity and color and the ring's design.
In the US, the average ring size for women is between a size 5 and a size 7, all of which are almost equally as common. You can also check out our size guide for women for more information.
The average ring size for men vary to a greater extent than with women with sizes generally ranging from an 8 to a 14. A size 10 would be regarded as the most common although most rings purchased range between sizes 8-12. Feel free to check out our ring size guide for men for more information.
In general, rings can be resized up to two sizes either way before too much stress is placed on the metal.
In the US, the average standard ring size for a female is between a size 5 and a size 7, while size 10 is the most common ring size for men.
To measure ring size at home, take a piece of string or dental floss and wrap it around the base of your finger or the finger of your partner to determine the ring size. Mark the meeting point of the string, then line that up with a ruler and note its length in millimeters. You may use a ring sizer from our website to check your finger size.