ENGAGEMENT RING GUIDE – FINDING THE ONE
Buying an engagement ring is one of the biggest decisions you are going to make before getting married. It is a symbol of your love and commitment and a piece of jewelry you will be keeping forever and potentially passing down through the generations possibly along with your wedding bands. With all that in mind, it's important to choose the perfect ring best suited to you and your partner.
To help you understand the different rings available, we've put together a comprehensive engagement ring education guide to help you learn more about your choices.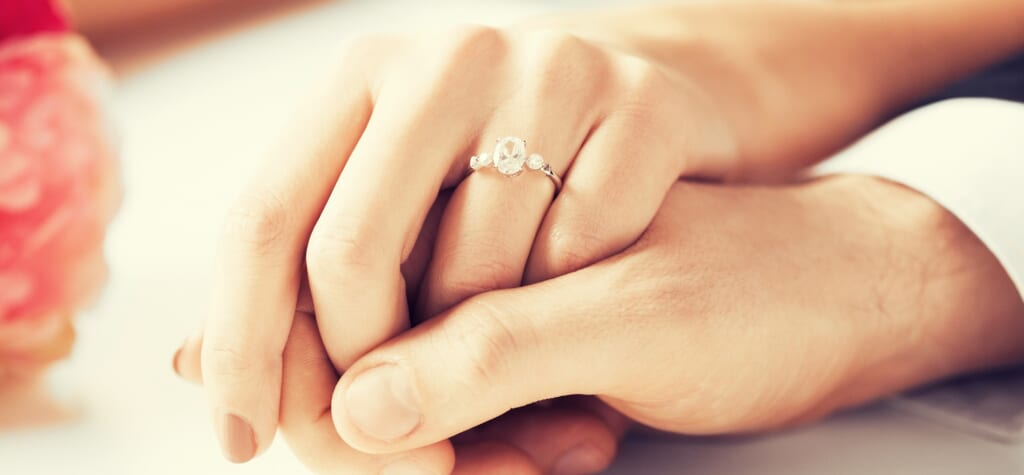 Engagement Ring Styles
There are several different types of styles to choose from when it comes to buying engagement rings. It's best to understand your partner's ring style to help you with the decision. Is your partner more traditional or more trendy? These tidbits will help properly inform your choice and ensure you get the best ring.

Halo
Maximum sparkle
A center diamond or gemstone surrounded by a halo of tiny diamonds or stones.

Solitaire
Unadorned simplicity
A single beautifully placed center stone in a plain classic setting is a very popular style. It's also timeless and usually a good bet if you want something that will never go out of fashion.

Accent Stones
Breathtaking detail
A center stone or diamond is accentuated by smaller accent diamonds on the band. This style is also used for eternity bands and wedding rings.

Three-Stone
A brilliant trinity
A trio of brilliant-cut round diamonds or a center emerald cut diamond framed by a pair of matched smaller stones or even baguette cuts.

Vintage
Romantic nostalgia
A style that harks back to another era for vintage-loving brides-to-be. With the proper prongs and setting design you can make this ring look like a vintage family heirloom even if it's brand new.
---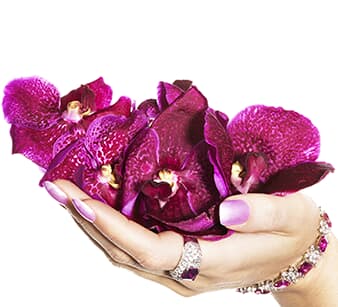 Choosing a Gemstone
Whether you have your heart set on a particular gemstone, carat size, carat weight, color, shape, and clarity, or are open to all possibilities, becoming familiar with gemstone properties and attributes will help you shop with confidence. Shop Gemstone Engagement Rings.
If the variety of stones seems overwhelming it's best to zero in on your top choices and learn more about those instead of studying all the different varieties.
Learn about diamond.
Learn about gemstones.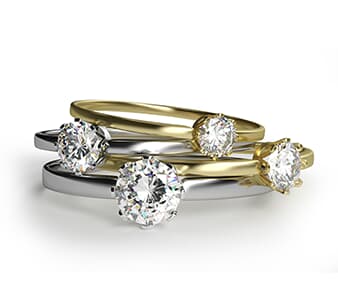 Choosing a Metal
When selecting a metal, three major considerations to keep in mind are color, durability, and budget. Consider white gold, yellow gold, rose gold, or platinum. Each metal has a series of pros and cons but quite possibly the biggest consideration when it comes to selecting either rose gold or yellow gold will all boil down to personal style. It's important to also have a keen understanding of what your partner wants and likes in their jewelry.
Learn more about your options.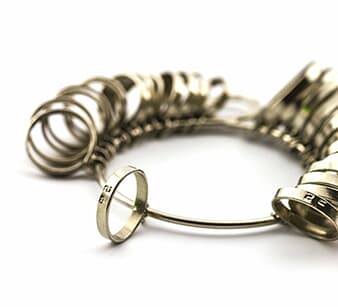 Find Your Ring Size
Before ordering your ring, make sure you have an accurate finger size. We will teach you how to determine ring size in few easy steps.
Learn more
Diamonds may be the hardest material known to man, but they are not indestructible. Learn how to protect and care for your diamonds and ensure they last a lifetime.
Gemstones are unique and yours may have special care requirements. Handled with care, gemstones can maintain their pristine beauty and last a lifetime.
---
Frequently Asked Questions About Engagement Rings
In Western countries, an engagement ring is traditionally worn on the third finger (ring finger) of the left hand. The origins of this can be traced back to the Ancient Romans who believed the finger had a vein that was connected to the heart. The vein is called the Vena Amoris or "Vein of Love".
A generation ago, a man was expected to spend one month's salary on an engagement ring, but the generally accepted "norm" these days is two month's salary. This means that if you earn $1,000 each month, the ring should cost $2,000. Many argue that in a world of equal opportunities, there should NOT be a defined amount.
The best and most accurate way to measure your ring size is to get professionally measured by a jeweler. However, you can order a plastic or paper ring sizer online which comes with a sizing chart. Alternatively, you could wrap a piece of paper or string around your finger, measure the size and compare it to a sizing chart. You may check out our 
ring size guide
 for more information.
There are many places that you can buy an engagement ring such as at a high street jeweler, a boutique store, or, more commonly these days, online. Purchasing a ring online gives you a far great choice than buying an ring in-store and can often result in significant savings. However, always choose a reputable website when making your purchase to be sure your purchase is safe.
To clean your diamond engagement ring, we would recommend that you prepare a solution of warm water and mild detergent. Leave your ring to soak for approximately 30 minutes and then gently, using a soft toothbrush taking care not to dislodge the stones. Rinse under running water and repeat if required.
Your engagement ring should be moved to your ring finger on your right hand for your wedding day, leaving the wedding finger free for your future spouse to place your wedding ring on. The engagement ring can be returned to the ring finger of the left hand after the ceremony.
An engagement ring is usually given as part of the proposal and usually has a diamond or diamonds, while a wedding ring is traditionally a plain metal band in yellow gold or white gold. Some wedding bands also have diamonds like diamond-encrusted eternity bands that you give to your partner when you exchange your vows during the wedding ceremony and wear throughout the rest of the marriage.
Research varies between countries but the average spend on an engagement ring in the US is between $1-5000.
A ring is generally presented as a gift by someone to their prospective spouse when proposing marriage or soon after a proposal has been accepted. It symbolizes a formal agreement to future marriage.
Platinum is a precious metal that is a popular choice for wedding and engagement rings and is more durable than other precious metals with greater longevity. This is a bet best for diamonds to ensure they are also well protected in the ring setting. Other options include slightly less expensive white gold and yellow gold.